My Profile

Links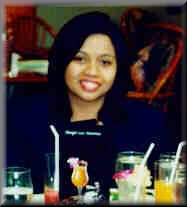 My Profile


My name is Reina Ruus, married with two children. I live in Jakarta, Indonesia but a city called Sydney I call it my real home. I love travelling with my husband and son as often as possible. . I like to be in a cold climate country coz where I live, it is very hot. I used to chat on the IRC for hours in Undernet, Efnet or Dalnet under the nick of 'gabie'... I am running out of space so I have to go...
My Favourite Links


Sydney
Sydney, my second home


Travelocity
Travelling is mostly the best for my family!!!!


White House
Look at what Bush's been doing...


NBC
Try to avoid missing this out...


Northwest Airlines
To me..this is my favorite airline...















|My Profile|Links|Sign Guestbook|View Guestbook|




This Page is linked to

Linking Indonesian's Hommies
@ 1997 Indocities, All Rights Reserved


last updated October 2007